Item: SCP-021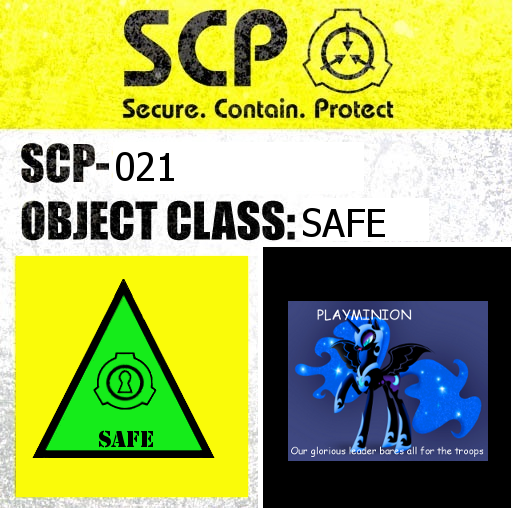 Class:SAFE
Description:
Edit
SCP-021 is a adult magazine given out to her minions by "Nightmare Moon"
It's Nightmare Moon in [DATA XSPONGED] poses to encourage improved morale with her troops.
How SCP-021 came into SCP Foundation custody?
Edit
SCP-021 was dropped into Site ## mailbox by a hooded pony. CCTV footage of the drop was badly corrupted by a magic spell.
What was gathered by the footage?
Edit
The face of the hooded pony is badly hidden by corruption of the data file that stores the footage. We believe it was a unicorn by what CCTV images recovered by SCP-010.
Containment Procedures
Edit
SCP-021 is to be kept in a class 9 safe at site ##.
NO PONY IS TO LOOK AT ITEM WITHOUT PERMISSION OF TORCHWOOD -6
"Nightmare Moon is SO HOT!"  - Dr. Sparkle
"DR SPARKLE! YOU DIRTY [DATA EXPUNGED]" - Dr [RETRACTED]
It is not known how many copies of SCP-021 are in circulation around the Foundation. This is currently under investigation.